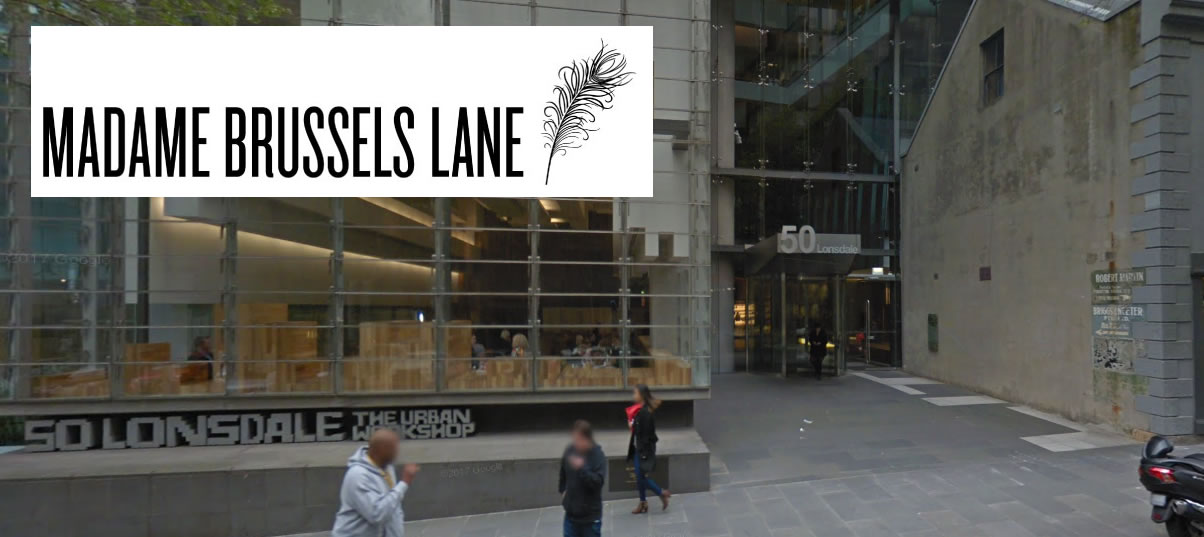 THE MADAM BRUSSELLS TOUR explores the nineteenth-century history of the famous 'slums' and 'red-light' districts of Little Lon and Little Bourke, today transformed into a vibrant cafe and business precinct.
EXPLORE the lives, hopes and dreams of the people of the era including the vilified Caroline Lohmar or 'Madam Brussells' who operated luxurious bordellos as well other significant women such as Mary McKillop, Esther Silcock, Vida Goldstein, Constance Stone, Lola Montez, Marie Hayes,  Dolly Gray, Margaret Dougan and others.
LOCATIONS OF THE MELBOURNE UNDERCLASS comes to life including opium dens,  ragged schools, missions, gangsters, bilkers, fortune tellers, dance halls,  markets, publicans, 'Salvation Janes', gamblers, suffragettes and burlesque theatres.
LEARN ABOUT the archaeological excavations of Little Lon and Wesley Centre, handle artifacts and the insights that have transformed our understanding of poverty, crime and housing in Australia.
DISCOVER HOW many of the social welfare rights and privileges that Australians enjoy had their beginnings in Little Lon with desparate struggles to assist the poor through two depressions, two world wars and a deadly pandemic.
MEET: Degani Cafe, 50 Lonsdale Street, Cnr Madam Brussells Lane and Lonsdale Street.

SEE  –  BOOKINGS AND PRICES  –   FOR INDIVIDUALS, GROUPS AND SCHOOLS 

 'I just wanted to say thank you for the great tour you gave last night, everyone had a wonderful time and for our line of work, all that history of welfare and everything else about this little corner of Melbourne was absolutely fascinating.' Staff outing, Office of Hon. Daniel Andrews MP.
Thank you again for taking us on the tour of Madam Brussell's Melbourne, we all found out some fascinating information about our own 'home' city which we didn't know. So much history!  Staff outing, Royal Melbourne Hospital.
I want to thank you for your time and insight today giving us that fantastic historical walk. We thoroughly enjoyed the experience and I certainly gained a richer understanding of Madame Brussels and who she might have been. I felt an incredible appreciation for people like you who are passionate and actively working to tell these stories that have shaped the deeply interesting character of our city. Emily and friends.
A BIG thank you for today. it was a great success and I received excellent feedback from the team. Staff excursion, Dept Human Services.
Madame Brussell's magnificent bordellos in Lt
Lonsdale, Lt Bourke and Chinatown were famous in gold-rush Melbourne. Her 'flash houses' opposite Parliament defied the bigotry of powerful men who vilified her as the 'Queen of Evil and Harlotry' and triggered the criminalisation of sex workers for over a century, until reversed by the Victorian parliament in 2022. Hers was a roller coaster era: Gold Rush, Marvellous Melbourne,  the 1890s Depression, Prohibition, Madam Brussell's Tour is a fascinating insight into the values, morals and lifestyles of 19th century Melbournians and the architectural transformation of a city which had abandoned its poor into a modern city with a social welfare safety net and striking contemporary architecture  (See Pictures). Then there's that mystery of the missing parliamentary mace, Melbourne's oldest outstanding reward after 120 years ($50,000) claimed to be lodged in Madam Brussell's bagnio.
Some Locations:
17 Casselden Place operated by  Chinese street worker  "Yokohama" (Tiecome Ah Chung) until 1920s.
Lonsdale Street: Madam Brussell's brothels at nos 2, 8. 32-4 and other 46 houses of 'ill-repute"
Lonsdale Street: Boccacio House (Annie Wilson)
'Fallen Women' shelter, Spring Street:  dancing hall
Romeo Lane: Brothels, Thieves, Fancy Men and and Vagrants
Casselden Place: Slums and brothels, ragged school, nuns and the shoemaker's cottage.

Celestial Lane. Chinese boarding houses and prostitutes.
Juliet Terrace: Opium Den
Kytes Lane: Opium Den and Brothels, Ragged Schools
Globe Alley: Animal Pound, Joss House
Bilking Square: Thieves, mugging, blackmail
Waratah Lane: Gambling Dens
Punch Lane: Lola Montez, the Stripper, Federicio
O'Brien's Lane, Ragged School
Cumberland Place: Sisters of St Joseph School
Punch Lane (Telstra), Trunk Bar: Homeless Refugees, fallen women
Stephens Street: Madam Fraser's flash house
Stephens Street: 'Murder of the Chinawoman'
Eastern Market: Madam Ghurka and Madam Zinga Lee
Eastern Market: Gun Alley Murder, Murder by Professor Medor,
Paddy's Market: female penitentiary (Lt Collins end 1840-1855), Insane asylum (Watchhouse), Insurrection, Homeless, Suicide.
Little Collins: Gun Battle  of the Fitzroy Vendetta
Bourke Street: Assassination attempt Squizzy Taylor
Bourke Street: Palace Hotel – Hide-out Squizzy Taylor
and much more………..
HISTORY BACKGROUND
'Madam Brussells' was born Caroline Lohmar in Germany, the year before the Gold Rush. (See biography The Life of Caroline Hodgson by Meyer Eidelson).  Caroline (1850-1908) was a contemporary of  Saint Mary Mackillop (1842-1909) who was born nearby and set up her missions and ragged schools 200 metres away. These two very different lives make fascinating comparison.  Both were responses to the extreme desperation of many women and both fell foul of  outraged males in the church hierarchy. The slums of Little Lon and Little Bourke were an intensive hotbed of social justice agitators: anarchists, communists, gays, feminists, slum sisters, church leaders, Chinese civil rights activists  and others (see below) whose groundbreaking programs powerfully influenced our welfare safety net of today.
Prostitution, petty crime and larrikinism
Archaeologist Justin McCarthy suggests that by 1854, only twenty years after Melbourne was established as a city, the area was well established as a notorious "red light" and slum district. It was associated with prostitution, petty crime and larrikinism. The numerous narrow back alleys and small cottages of this area housed, by this time, a growing number of prostitutes, The Argus newspaper at the time complaining of "females of the lowest and most disreputable class, who pursued their calling with the lowest and most filthy language and conduct'. The truth was very different. Many of the working women were victimised by prejudicial harassment and imprisonment leading to laws criminalising of sex-workers for over 100 years and only repealed in 2022. 
Fergus Hume's immensely popular The Mystery of a Hansom Cab, written in 1887, described life in a slum in the nearby lanes behind Little Bourke Street, as exposed by its middle class heroes. Writing in 1915, C. J. Dennis's humorous novel The Songs of a Sentimental Bloke spoke of the "low, degraded broots" (brutes) of Little Lon.
Little Lon's most opulent brothels tended to face main streets, but were discreetly run. "Disorderly" or "low class" brothels tended to be in the narrower laneways behind. Tobacconists, confectionery, cigar and fruit shops in the area also sometimes acted as fronts for prostitution. In the small houses of the laneways, single or small groups of prostitutes also ran the most primitive cottage brothels. For example, the still extant Number 17 Casselden Place was operated by a single Chinese prostitute known as "Yokohama" (Tiecome Ah Chung) as late as the 1920s.
"Madam Brussels", facing Lonsdale Street, attracted a wealthy class of clientele, and consequently also greater notoriety, although prostitution itself was not illegal in 19th century Victoria. 
Madam Brussels was far from the only elite brothel in the area. In 1867 Police Commissioner Standish introduced the visiting Prince Alfred, Duke of Edinburgh, to a brothel run in Stephen Street by Sarah Fraser. Other "orderly" brothels also included those of "Scotch Maude" and Biddy O'Connor.
In October 1891, the mace of the Victorian parliament was stolen. It was claimed that it had found its way to Annie Wilson's "Boccaccio House", in the Little Lon district, where it was supposedly used in a mock parliament. It was not recoveredThe connection between Victoria's politicians and the brothels of Little Lon was reinforced when Chief Secretary Sir Samuel Gillott was revealed to have had ongoing financial dealings with Madam Brussels.
Understanding the people of Little Lon
Recent writers have emphasized the vibrancy and complexity of Little Lon's population of migrants and itinerant workers, and challenged the stereotype of the area as a miserable slum. This also seems to have been born out by the major archaeological studies conducted in the area in 1988 and 2002, which discovered a wide variety of objects from abandoned cesspits and rubbish dumps. Many were typical of domestic use in the nineteenth century, but a number gave indications of a flourishing community and occasionally, prosperity. Dr. Alan Mayne has commented;
"Little Lon was clearly not, as the slummer genre would have it, an unstable mishmash of listless and directionless deviants. Nor were its inhabitants passive victims to poverty."  By the end of the nineteenth century, the area had become home to a diverse migrant population of Chinese, German Jews, Lebanese and Italians.
Changes in the early twentieth century
Leanne Robinson comments that in the early twentieth century the Little Lon district began to change significantly.[Newspapers had increasingly demanded a clean up of the area, John Norton's The Truth being particularly vocal in its attacks, especially on Madam Brussels, the "queen of harlotry." Workshops and small factories increasingly took over the area. Many of the hotels and brothels were gradually being demolished and "prostitutes found themselves forced into… areas such as Gore Street and the notorious 'Narrows' around the Fitzroy Town Hall" Policemen had greater powers and prostitutes were subject to new laws.[Around 1914, the buildings between 6 and 34 Lonsdale street, including Madam Brussels former brothel (which had closed in 1907) were demolished and replaced by small factories.
However, people continued to live in the area until the 1950s, when much of the district was compulsorily acquired for redevelopment by the Federal Government. In the early 1990s, a former resident of the Little Lon district was interviewed. Marie Hayes lived in her parent's home in Cumberland Place (in the northern half of the district) until she married in 1940. Of Little Lon she said This area used to have a bad name. Some of these streets were not pleasant, but everyone has always been kind to us. No one [had] ever molested us, or even made us afraid. When you have lived so long in the heart of the city, you want to stay here alway.
 The area today
The Oddfellows Hotel, built in 1853, on the corner of Little Lonsdale Street and "Madam Brussels Lane" (Little Leichardt Street)
In the northern half of the district, all buildings and streets were demolished in the late 1950s to make way for Commonwealth buildings.Today, only a few nineteenth century buildings survive in the southern half of the area. These include
17 Casselden Place, a former house built in 1877. Typical of cottages built in the mid nineteenth century and originally one of a terrace of six. This is the only nineteenth century single story dwelling in the area to survive.
Oddfellows Hotel, built c.1853 at 35-9 Little Lonsdale Street. Although now a licensed premises, this building has had a number of uses, including a Chinese furniture maker's factory
Black Eagle Hotel built c.1850 at 42-4 Lonsdale Street, now a shop.
Factory at 25 Little Lonsdale Street. A former shop and forge, built about 1868 for engineer Alexander Lugton. This is one of few surviving examples of the small businesses that operated in the area in the nineteenth century.[27] The company expanded in the late nineteenth century and eventually took over a number of buildings in the district.
Elms Family Hotel, on the corner of Spring Street and Little Lonsdale Street. This is the only commercial business in the area that has operated continuously on the same spot in the district since the mid nineteenth century, although the building has been remodeled.
Church of England Mission building, next to the Elms Family Hotel, one of a number built in the district by Church missions to cater for local residents.
118-162 Little Lonsdale Street, 100 metres west of the area. A small streetscape of former shops and dwellings between Exploration lane and Bennetts Lane, that most resembles the Little Lon of the nineteenth century.
Several other buildings in the district have been redeveloped or incorporated into modern office blocks.
Buildings in Little Lonsdale Street, numbers 118-162, between Exploration Lane and Bennetts Lane.
These include
"P.N.Hong Nam" Building at 268 Exhibition Street. This was built as a factory and shop c.1910.[
"Khyat and Co" Building at 76 Lonsdale Street. Built as a factory in 1922.
"Coopers Hotel" at 282 Exhibition Street. Originally built as a hotel for James Cooper in the 1850s, but later delicensed. The building served as a Mission building, a home for girls, and later a post office before being reopened as a hotel.
Major archeological digs were conducted in the area in 1988 and 2002.[34] Many of the objects uncovered are on display at Museum Victoria in a recreated "Little Lon" streetscape.
-Wikipedia's Little Lon
THE WELFARE HISTORY OF MELBOURNE'S 'SLUMLAND' – 'LITTLE LON' AND LITTLE BOURKE
1851

 

'Madam Brussells' was born Caroline Lohman in Prussia in 1851 and migrated to Australia 24 June 1871 with husband William Hodgson on the Melmerby. Mary MacKillop was born of Scottish parents in Brunswick Street, Fitzroy on 15th January 1842. She was the eldest of eight children in a family that was often without a home.

1853

Cooper's Inn, corner Exhibition and Little Lonsdale Streets was in turn a lodging house, Chinese factory and a base for Melbourne City Mission.

 
 

1859

Ragged schools first appeared in Melbourne in 1859, 15 years after the foundation of the English Ragged School Union. The first, in Smith Street, Collingwood, was established by leading evangelical Mrs Hornbrook, a founding member of the Melbourne City Mission. Following her death in 1862, a voluntary association agreed to continue the work in her name. At its peak the Hornbrook Ragged School Association offered 1000 children in twelve schools a basic education with an emphasis on biblical and practical instruction, often operating out of premises owned by inner-city missions, which found that the schools provided an entrée into working-class families. Following the introduction of compulsory education in 1872, the Ragged School association went into decline, closing all but five of its schools within three years, the committee arguing that it found it impossible to continue to attract subscriptions. However, the idea of ragged schools survived, with the Education Department operating a school for the children of the 'byeways, brothels and opium dens' in an ex-Hornbrook school in O'Brien's Lane throughout the 1880s. The Little Lonsdale Street Hornbrook school, handed over to the Mission to Streets and Lanes, survived until 1924.

1859-60

The City Free Kindergarten (275-285 Exhibition Street) constructed in 1859-60 as a Jewish School for the Michveh Yisrael Synagogue. The building was used for worship and Hebrew School until 1877 and since then has served several uses. It became a free kindergarten in 1920. From an 1870 photo it seems that part of the pedimented end to Exhibition Street facade has been removed.

1860

At age of 18, Mary Mackillop and her financially struggling family moved to Penola in South Australia where she provided for her family by taking up the post of governess to her Cameron relatives.

 

The Ragged Boys' Mission Latrobe and Exhibition Streets (photo), a non-denominational organisation caring for 'waifs and strays' was established in Melbourne by Mr William Minton. It operated a home for boys on the corner of Latrobe and Exhibition Streets. The term 'ragged school' was adopted from Britain, where charity schools for underprivileged children were given this name from around 1840. The organisation moved to Frankston in 1901 to a holiday home for boys known as Minton Boys' Home, after the founder of the Ragged School.

1866

 

In Penola Mary MacKillop met a Catholic priest, Father Julian Tension Woods, with whom she started in 1866 the first St Joseph's School in an old stable. On St Joseph's Day, March 19, 1866, Mary MacKillop started wearing a simple black dress and began the Congregation of the Sisters of St Joseph. As the congregation grew, the Sisters of St Joseph opened more schools including Melbourne.

1874

Caroline principal brothel, which was also her home, was located at 32-34 

Lonsdale Street, Melbourne

1884

Salvation Army Fallen Sister's Home in Carlton (also called 'Rescued Sister's Home' targets the city's Red Light district after opening in Carlton. It catered for discharged female prisoners, prostitutes and drug addicts frequenting the opium dens of the Little Bourke Street area. In its first 12 months this women's refuge received 300 women who were in desperate need of assistance.

1880s

Hornbrook Ragged Day School 1880s in Cumberland Place replaced by St Georges Day School 1907- 1930 Mission to Streets and Lanes.

1886

The Mission to the Streets and Lanound, Joss House

% at 171 Little Lonsdale St.  in providing food, shelter and pastoral care to women and children in inner-city Melbourne. By 1900 the Mission had a staff of six deaconesses and one probationer. Its deaconesses were to 'bring the message of the Gospel to the poor and fallen and by the force of their sisterly sympathy, compel the outcast to come in'. It wanted to include people who were not reached already by the ordinary parochial organisations, especially the category described as 'fallen women'.  Miss Emma Silcock (Sister Esther) assumed responsibility in 1888. She was also the founder of the Community of the Holy Name in Victoria 1888. In 1997 it merged with the Mission of St James and St John and the St John's Homes for Boys and Girls to form Anglicare.

1866

Anarchist Club established 1886 in room above her Majesty's Theatree (Lt Bourke Street side) 

1888

 

Community of the Holy Name Spring St e  religious order, founded by Sister Esther at 171 Little Lonsdale Street. Moved to Spring St (near Little Lonsdale Street in 1913 and in 1958 to Fitzroy. Sister Esther led the work in Melbourne of the Mission to the Streets and Lanes. Many of the women who worked in institutions run by the Mission to the Streets and Lanes were Sisters of the Community of the Holy Name

1889

Mary Mackillop returns to Victoria – The first Victorian foundation was in 1889 at Numurkah, a rural centre. Father Michael O'Connor first met Mary MacKillop in Penola, as Father Woods' successor. Parish Priest of Numurkah, in Sandhurst Diocese, he requested Sisters for a school. In late 1889 four sisters arrived by Cobb & Co. coach. In January 1890 Mary in Numurkah, opened the first Victorian Josephite school. She wrote of a 'humble beginning of a great work'. Bacchus Marsh and Surrey Hills followed in 1890. East Melbourne, Footscray, Yarraville, Williamstown and Newport were established by 1902. At Archbishop Carr's request, the Josephites acquired the St Vincent De Paul Society Children's Home, with its debt. From 1891 till 1980 Sisters cared for poor and need children for at the home in Surrey Hills.

1889

Labour Bureau at 53 Latrobe Street opened by The Salvation Army. This was Australia's first free employment service. It moved to 271 Exhibition Street in 1892 before being taken over by the Victorian Government. In 1897 the Labour Bureau recorded 81,831 men were registered as unemployed – work was found for 69,119 of them.

1889

Australian Socialist League formed at Golden Fleece Hotel in Coverlid Lane

1891

The Providence convent at 43-45 Latrobe Street opens as refuge for women and children's night school. Soup, food and clothes were distributed with volunteer help.

1892

Disastrous depression ends 40 years of boom since the gold rush.When Hodgson, her husband, became ill with tuberculosis  Caroline arranged for him to be nursed in at "Gnarwin," her property on Beaconsfield Parade.

1892

Synagogue and Hebrew School built 1859 at 271 Exhibition was used by the Salvation Army as the first Free Labour Bureau in Australia to seek jobs in the disastrous depression of 1892 and then as a Men's industrial home

1897 Women's shelter following additions in 1897, as a

1909 Free kindergarten for children of poor parents under the patronage of the lady mayoress (MCM)

1909 Methodist Central Mission (MCM)

1916 City Crèche for mothers visiting hospitals or doctors (MCM). The need for such care became particularly acute during WWI when many women entered the workforce.

1929 Relief Depot in the Great Depression.

1948-1950 Melbourne City Council Creche modified

1948-1950 Crèche and nursery facility – remodified Melbourne City Council

1892

Parliamentary mace disappears bringing public attention to Melbourne's brothels and is rumored to be used in Madam Brussells brothel for unparliamentary activity. Telephone scandal erupts when Madam Brussells is found to be connected to the exchange with govt assistance.In his 1891 pamphlet The War between Heaven and Hell, religious crusader Henry Varley singled out Madam Brussels as an "accursed procuress".Truth newspaper regularly attacked her eg headlining "Madame Brussels' Notorious Bawdy House: Her Junketing Jezebels

1895

 

From its beginnings as an out-patients' dispensary in Latrobe Street (where the Doctors Stone worked on Monday mornings), the Queen Victoria Hospital, funded by a jubilee shilling fund appeal, evolved and was officially opened in July 1899. Doctors Constance, Emily, Clara and Mary Stone (Stone Lane) pioneered early activities and networks of Melbourne's female doctors. Constance's home was the venue for formation in March 1895 of the Victorian Medical Women's Society, formed with the chief object of 'effecting a closer relationship between medical women graduates and undergraduates and to advance the knowledge to further their interests generally'. Clara was the first president and all three women supported the society throughout their lives. At a meeting held on 5 September 1896 the eleven women doctors decided to set up a hospital of their own: their vision, and its subsequent achievement, was attributed by the others to Constance's inspired leadership.

1897

Sewerage lines connected to Spotswood pumping station begins to lower high death rates of children and others after government implements reports from Slum and Royal Commissions.

1897

St Joseph's Poor or 'Syrian' School opened by Mary MacKillop in a cottage in Cumberland Place, behind the original Providence, for children from the nearby slums. 1897 St Joseph's Poor or 'Syrian' School opened by Mary MacKillop in  a grain store Little Lon Street.

1898 St Joseph's Poor or 'Syrian' School moved by Mary McKillop in a cottage in Cumberland Place, behind their original Providence, for children from the nearby slums.

1898

Women's Social and Political Crusade – aims included measures to provide a Deceased Husband's Brother Bill (to permit marriage in such circumstances); public lavatories for women (1904 Russell), a septicaemia ward at the Women's Hospital and children's playgrounds.

1898

Chinese Mission Church, 123-129 Little Bourke St, Melbourne

The Chinese Mission Church was established by Cheok Hong Cheong. After a dispute with authorities in 1898 Cheong moves his congregation out of the church at 108 Little Bourke Street and establishes the Chinese Mission Church at 123-129 Little Bourke Stafter an interim period operating from the Temperance Hall in Russell Street.

1898

Will Andrade establishes Melbourne Anarchist Club 1880s and Anarchist Bookshop at 201 Bourke Street in 1898-1929.

1899

 

Queen Victoria Hospital opened in Little Lonsdale Street. It was the first womens hospital in Australia run by women for women. Money had been raised in 1897 by an appeal from Vida Goldstein and female doctors to every woman in Victoria to donate one shilling and three thousand, one hundred and sixty two pounds and eleven shillings and ninepence was raised. This appeal was held in connection with the Queen Victoria Diamond Jubilee celebration. In 1946 the hospital moved to Lonsdale Street.

1901

Providence centre land purchased in Albert Street, East Melbourne for the erection of a new Providence, providing a home for women and children. An adjoining two storey residence, purchased and opened in 1920, later became a hostel for country girls. Today the Mary MacKillop Heritage Centre occupies the Providence site. In 1901 the Broadmeadows Foundling Home opened to care for single mothers and babies. The Carlton Receiving Home cared for young women.

1907

Cumberland Place was St Georges Day School 1907- 1930 replacing the Hornbrook Ragged Day School 1880s.

Madame Brussels was forced to close following increased efforts by the government to curtail prostitution. she retired to Gnarwin in St Kilda and died in 1908.

1902- 1909

 

Mother Mary MacKillop suffered a stroke in 1902. With deteriorating health, she died on August 8, 1909, in North Sydney. Her remains were reburied in 1914 in the motherhouse of the Sisters of St Joseph in North Sydney, in the 

Mary MacKillop Memorial Chapel

.

1916

Industrial Workers of the World (Wobblies) HQ established corner of Russells and Lt Bourke Streets opposing conscription, war and White Australia policy. Banned in 1917.Vida Goldstein locates Womens Political Association at Guild Hall (RMIT) Latrobe Street in a joint commune with men to oppose conscription and war.

1918

 

Mission House, located in an old bakery in Little Lonsdale Street was the base of the Sisters Josephites. In 1918, Mission House moved to new premises in Spring Street.

1924

Communist Party established at 122 Bourke Street in 1924, 217 Russell Street 1927 and182 Exhibition Street 1933

1951

Communist Party printing press at 16 Corrs Lane raised after Government initiates Communist Party Dissolution Bill. Referendum defeated September 1951.

1971

Womens Action Committee leases two story warehouse 16 Little Latrobe Street and initiates Womens Liberation newsletter, Halfway House, Health Centre and Rape Crisis Centre after Zelda D'Aprano chains herself to Commonwealth Centre for equal pay. In 1974 moves to 50 Latrobe Street.

1995

 

Mary MacKillop beatified by Pope John Paul II after the Vatican accepted the details of her life as evidence of exceptional virtue.

1921

St John's Homes for Boys was established. By 1958, the home had also began caring for young girls and changed its name to St John's Home for Boys and Girls.

2008-2012

 

Canonisation of Mary MacKillop on October 17 2010.

New lane named for Madam Brussells.

Madam Brussells bar opens in Bourke Street
"(Little Lon is) a  loathsome centre in which crime, gambling hells, opium dens and degraded Chinese abound, and where hundred of licentious and horribly debased men and women are herded like swine… "a disgrace to any civilized city on earth."   Evangelist Henry Varley 1891.
From 11 o'clock in the forenoon till 3 or 4 next morning – there is fully thirty larrikins from 14-22 years of
age…[that] live entirely on their prostitutes… they watch during the night for men intoxicated to rob them…they know the time the police is due [so] they disperse until they pass.  Argus, 1882.
FURTHER READING
Nation Builders:     http://foskc.org/biographies/hodgson/
The Outcasts of Melbourne by  Graeme Davison
Madam Brussells by L M Robinson
Dancing with Empty Pockets: Australia's bohemia Since 1860 by Tony Moore
Marcus Clarke's Bohemia by Andrew McCann
The Mystery of the Hansom Cab by Fergus Hulme
 The Women of Little Lon by Barbara Minchinton

See Prices & Bookings